Directed By:
Emilio Miraglia

Rated R
Genre: Horror
Format Used: Netflix DVD
Contains: Graphic Language, Graphic Violence, Nudity, Sexual Content and S & M
Country: Italy
Dubbed
Also Known As:
Notte che Evelyn usć dalla tomba, La (Original Itallian Name)
The Night Evelyn Came Out of the Grave
The Night She Arose from the Tomb
The Night That Evelyn Left the Tomb
THE PLOT:
Alan Cunningham has a nasty habbit of picking up red heads in bars and taking them home to his torture chamber and attacks them with whips and other torture devices and perhaps kills them. The reason that he's being haunted by images of his late wife Evelyn who he may or may not have murdered.

But what is the truth behind the haunting and why has Evelyn manisfested herself in the flesh, has she come back for revenge for her murder or is something else more sinister going on?
ZEDD'S OPINION:
It's fake! The whole thing is a fake! There is no ghosts or zombies, Alan is a Lord and his cousin or brother or half brother or something like that wants the castle and his title for himself. So he invests this overly complicated and needless pointless plan ala SCOOBY-DOO to drive Alan to commit suicide. Most of the movie is him picking up redheads and attacking them. He's not even killing them. He drops off to sleep and the girl vanishes and he thinks he buried them someplace. If he looked at the so-called ghost of Evelyn, he could tell she was wearing gloves! My God what a waste of time. Don't bother watching it, renting and if you bought it and haven't watched it yet, sell it. Quickly! Do yourself a favor and stay away from THE NIGHT EVELYN CAME OUT OF THE GRAVE. I give this stinker the CRAP-O-LANTERN.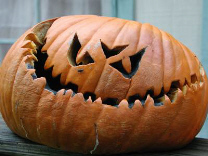 VOLTRON'S OPINION:
I agree, it's one of those movies that has a great poster but it turns out to be a big steaming pile of crap. This makes those movies look good. I like Italian movies for the most part. It's this one I have the problem with. It's slow, it's goes nowhere and when it finally does get someplace, it turns out to be fake. Makes you wonder how they did the senace ghost, projection I would imagine. Anwyway, if you like Scooby-Doo style mysteries, or into Sado Masicist movie, I pity you. I too give the waste of film the CRAP-OF-LANTERN.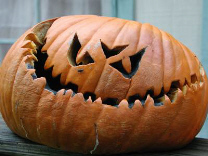 ON THE POSTIVE SIDE (+ HITS):
+ MYSTERY (It's somewhat a good mystery.)
ON THE NEGATIVE SIDE (- MISSES):
- FAKE GHOST (What is this SCOOBY-DOO?)
- SADO MASICITS (What's with the whips, was he always into that?)
- DEAD WIFE (Did he kill his wife or was it part of the plan?)
- SLOW (A good sleeping pill if you can't sleep.)
- POINTLESS (What's with the whole ghost thing, it would have been easier and less pointless to kill him and make it look like suicide.)
...AND FINALLY...
- NOT FOR ANYONE (If you have the sense God gave a flea, then stay away from this movie.)